Celebrating 200 Years of Judaism in Cincinnati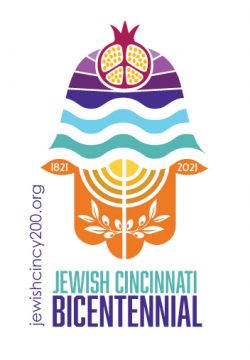 2021 marks the 200th anniversary of Jewish community life in the city of Cincinnati, which formally began with the founding of Chestnut Street Cemetery. The Jewish community and the City of Cincinnati will commemorate this significant milestone through community celebrations, multi-generational programs and interactive experiences.
 This milestone provides an opportunity for both celebration and reflection and presents a compelling opportunity for the community to come together as one. Cincinnati's Jewish community can boast myriad achievements, not least of which is the role the community has played in the history and development of greater Cincinnati. Both the Jewish community and the city overall have an opportunity to commemorate this historic milestone in our shared history, and to dream about what comes next.
The Jewish Foundation of Cincinnati is proud to be a presenting sponsor of Cincinnati's Jewish Bicentennial Celebration along with the Jewish Federation of Cincinnati. The festivities officially launched on September 26, 2021 with the rededication of the Chestnut Street Jewish Cemetery and the ish Festival in Washington Park.
In celebration of this historic milestone, a number of major community events are being planned, including:
January 30, 2022 – JCGC: Finding Your Roots – Get Started on Researching Your Family History, 2:00-4:00 PM at the Mercantile Library
February 2022 – Mayerson JCC: Jewish and Israeli Film Festival
February 20, 2022 – UC's College-Conservatory of Music: Jews in Music performance
March – June 2022 – JCGC: Walking tours of its various cemeteries
April 1 – April 14, 2022 – Cincinnati Opera: Warsaw Cabaret performance
April 8 – October 2, 2022 – Cincinnati Museum Center: Our Shared Story – 200 Years of Jewish Cincinnati exhibit
April 9 – May 15, 2022 – Cincinnati Playhouse in the Park: Becoming Dr. Ruth performance
May 12 – May 22, 2022 – Cincinnati Ballet: Bold Moves Festival – includes a performance of David Morse's "Our Story," centered on the Holocaust and Jewish History
May 19 – September 4, 2022 – HUC's Skirball Museum – Celebrating 50 Years of Women in the Rabbinate exhibit
June 10 – September 4, 2022 – Cincinnati Art Museum – The Works of Henry Mosler exhibit